What is App Clone?
App clone basically refers to taking inspiration from the other website or app theme which is extremely unique and different and copying that idea to make another App clone. Cloning doesn't mean copying precisely the same as the original one, it means taking some ideas of the App and adding your own unique features alongside it to make your own new app. App cloning is extremely popular nowadays and lots of app development companies have cloned popular app scripts like Uber, Ola, Lyft, etc., reskinned them alongside their own new features to make more than App clones. This App cloning technique is extremely useful and beneficial for budding entrepreneurs who wish to start out their own business with an app. Designing an app from scratch takes tons of your time and investment which can not be affordable. The word clone is employed for better understanding for the purchasers. In fact, successful Apps are those that are inspired and/or copy of another App but add up new features for their target niche that might make their App unique in such a way that others would want to clone!
Is App cloning legal?
The answer is yes, until and unless you don't breach existing business IPs, copyright, patents, or trademarks. The words like cloning an app cloning by definition are misunderstood. We've to know that we aren't talking about copying the whole app. But it's taking ideas from different apps combining them together to create a completely different app. Here at Hepto Technologies we never support or encourage duplicacy of any product or any website, nor do we practice such things in our company. We don't believe in selling complete duplicate code only for multiplying revenues. We've our own product which is an Uber clone but is a totally customizable, white-labelled solution and has its own unique features. Not only that, but we've successfully worked in additional than 20+ countries with a huge clientele base. There are often some similarities between the first and your clone solution, but your solution should have new and extra features which will help differentiate between the two.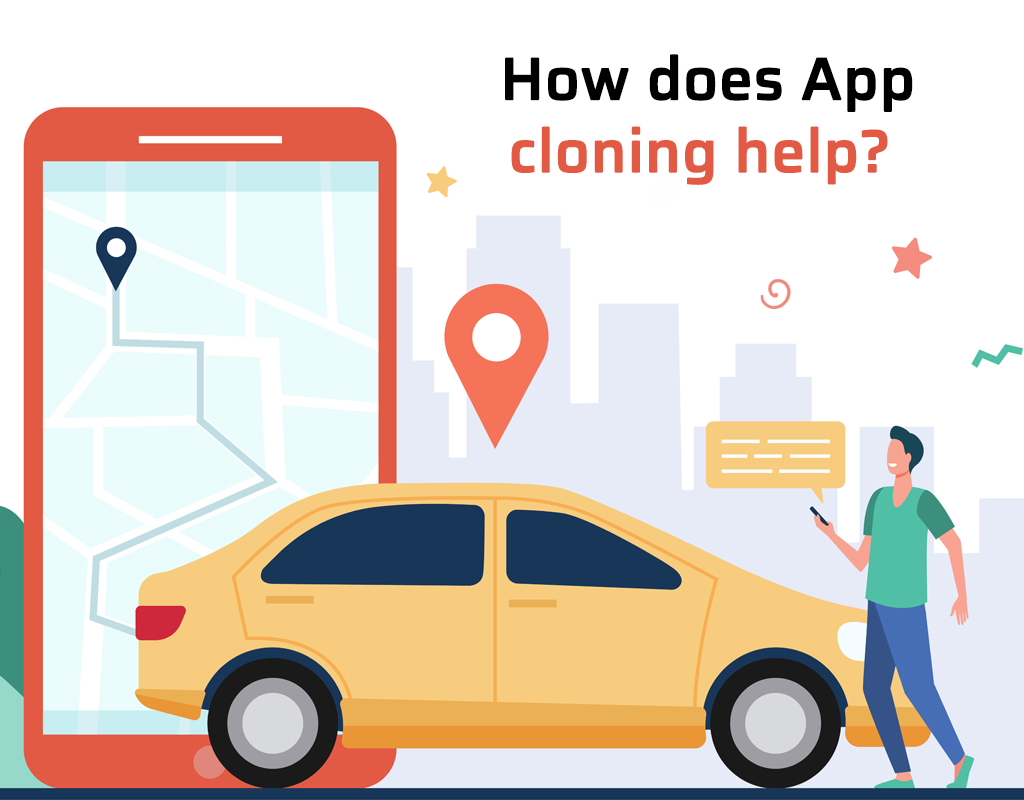 How does App cloning help?
A ready-made clone script that is customizable and white label is straightforward to launch thus saving your development time.

The overall cost that's required to develop the app from scratch is much higher compared to just buying a ready-made app clone.
The solution is tested and bug-free and preapproved to launch on both IOS and Android platforms.
The readymade app clones eliminate the necessity for business planning and marketing research for your app interface design.
Also, the app clones are designed and developed after taking inspiration from another app. Thus, it ensures that there's demand for such sorts of apps.
Popular sites that literally clone
Facebook — one of the foremost popular social media platforms that everybody is using nowadays, was actually a clone. It had been first developed as a kind of "hot or not" game for the campus student, but later it evolved and has become one among the favored sites of all times.
Lyft — It's a cab booking app that is popular just like Uber. There are many Uber clones in the market like Meerut cabs, Rapido for bikes, Ola, etc.
Aisle — It's a dating app that is just like the famous app tinder.
Airizu — It's the Airbnb of china that provides the service to seek out accommodations to people seeking vacation rentals and other short-term accommodations
These are some examples among the massive number of popular companies that have set an example that clearly explains what exactly app clones are and the way they will be distinguished from the first one.
There are many ready-made clone scripts available in the market of famous apps like Uber, Ola, appjek, etc. at cheap rates. The rates that they provide are so good that it gets easy for any customer to get convinced by the worth itself and begin dreaming of becoming a successful entrepreneur. But that dream will remain a dream if you choose such a script.
If we look for successful apps like Facebook, YouTube, or Uber, does one believe that getting an app clone just of a mere couple of bucks would have made them so successful and rich? These apps are having turnover in billions and this is often not achieved by just buying any cheap solution from the market. Many 3rd party vendors are offering app clones for only $300 or $500 bucks but what they hand over to their client is simply the app clone with no proper code, customization, and unique features. Anyone telling about this is often just fraud and maybe a cheat!. One has got to be very careful while choosing ready-made scripts from any 3rd party vendor. It's not a simple task to make an app clone because these apps share an equivalent platform and structure.
When your budget is a smaller amount than or around $3,000 USD.

When you would like to use the script because it is, and you want to urge very less or no customization within the app.

When you are getting to launch the app within 6 months.

If you're willing to check around and see how the initial response is from the market that you simply are targeting.

The app script comes with a single domain user license which suggests you can't resell the script.
What to think about before building an app which may be an Uber clone?
There are numerous factors that need to be seen. There's no fixed answer to the present question. Everything depends upon your business strategy and your app structure. If you're getting to take the essential prototype and test the market then the readymade clone script is an option for you. But you've got to remember the scalability and robustness of such apps which can make it difficult to vary UI and do customization in the future, making it of no use at the end of the day. If you're serious about business and have a strong business plan then choose a custom development approach or at least a scalable robust app that supports customization Your USP should be very different which can make your business stand aside from the competition.
Here are a number of the points that you simply can confine mind:
1 Set of Core Modules & Features for the event
2 UI/UX Design (User Interface and User Experience Design Factors)
3 Database Architecture
4 Admin Panel Console
5 Proposed Framework
6 Database Architecture
7 Proposed Technology
8 Proposed Software Development Architecture
9 Software Development Methodology
10 API Integration and/or Development.
11 Core features of Uber-like App?
12 SAAS-based app module
13 GPS Tracking
14 Social Sharing & Connect Communication Module
15 User Details
Why are investors pouring so much money on Readymade app clones?
The answer to the present is the rise of on-demand apps. The on-demand apps are on the increase with the launch and success of the Uber app which is an on-demand taxi booking app. After seeing the good potential to enjoy this industry, many budding entrepreneurs wish to realize the benefit out of it. All of them wanted to start out their own on-demand business app like Uber. But developing a strong and scalable app like Uber from scratch needs investment and time which can not be available to everyone. Therefore, the rise of App clones started with many top app development companies started providing clones of popular apps like Uber, tinder, Instagram, Facebook, etc. a number of the successful apps which are clones are discussed with you within the beginning of this blog so could be conscious of it.
Conclusion:
The success of the Uber app has started the wave of "uberification" which is spreading to different industries like pharma, beauty, food, etc. On-demand apps success has started a wave among the people to take a position in on-demand ventures. Except for successful on-demand ventures that need a string app script that is strong, scalable, and customized. So always choose top App clone development company Like Hepto Technologies, which has maybe a reputed name during this on-demand industry. Contact https://www.heptotechnologies.com/ +91 9092122211.